(Click here to read the articles)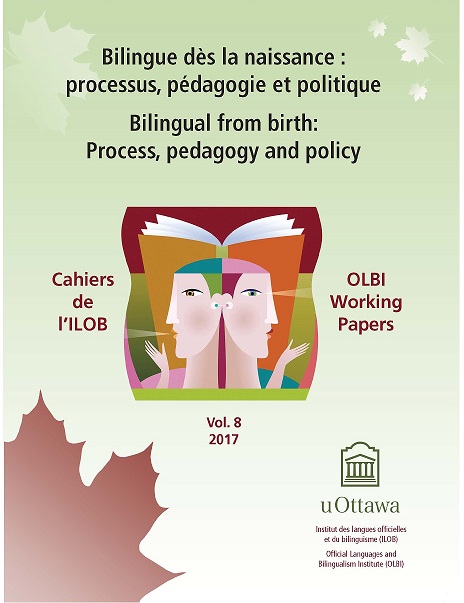 __________________________________________________________________

CALL FOR PAPERS
Cahiers de l'ILOB
 / 
OLBI Working Papers
Invited Editors: Hélène Knoerr, Alysse Weinberg and Catherine Buchanan
General Editor: Nikolay Slavkov
____________________________________________
OLBI and the Post-Secondary Immersion Research Group (a member of CCERBAL) invite presenters from the 2017 Immersion Symposium to submit manuscripts for the 9th volume of the OLBI Working Papers, to appear in the summer of 2018.
Your article in English or French should be based on the abstract published in the Symposium program and provide a detailed description of the research you presented at the Symposium. Submissions will be through our online journal management system.
Please note that the length of your article must be 10 000 words maximum, including abstract and references. Articles not received on time, not following OLBI's guidelines for authors, or exceeding the maximum length cannot be accepted.
All articles will go through a peer review process.
The timeline will be as follows:
The final deadline for submissions: October 1, 2017.
Peer review, notifications, and revisions: October 2017 – February 2018.
Print and online publication available: Summer 2018.
Questions about this volume may be addressed to Hélène Knoerr (hknoerr@uottawa.ca), AlysseWeinberg (weinberg@uottawa.ca) or Catherine Buchanan (buchanan@uottawa.ca)